This is making me oh so happy this week!
(project instructions below)
Each of the number pockets has 5 things that we are thankful for.
One for each of us every day this month.
It is so much fun to see what we each come up with everyday.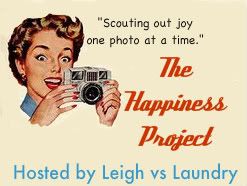 This project started with this picture I saw on Facebook, I just couldn't figure out how to re-create it on my own walls.
I love this idea, it's such a fun way to show off photos.
That is when the idea finally clicked & I knew I could make it happen.
I found this frame at the thrift store for $5. It was about the size I wanted & in good shape although I wish it had more personality, it is a great guinea pig for this project.
I took apart the backing & removed the funky tree photo. As a bonus my 15 year old is really really amused with the tree, it is HUGE. He took it & put it up in his room.
I spray painted the frame black & put in 3 pairs of eye hooks. I used 4x6 photos to figure out my spacing.
Then threaded basic twine between the hooks. So it looked like this

Now black frame. Photo taken by my 7 year old who loves to help.
I used some of the thick foam board that was behind the tree photo, trimmed down to just under 5x7 to mount the Give Thanks.

I made the Give Thanks using free digital kits I got from
Not free but part of one of Jessica Sprague's $1 Wednesdays
iKari Designs from
www.jessicasprague.com
The number pockets & journal cards are also from Jessica Sprague.
They are part of the Hybrid project Friday, project 4, 30 days of gratitude.
I am loving these command strips! They are like super strong velcro & make it super easy to hang up items you might want to swap out. My plan for this frame is to have it be themed & now I can easily change it up every month.
I have the extra thankful cards & number pockets in a jar below the frame. Just waiting for our thankful thoughts!
What are you thankful for right now?