Can someone please tell me what happened to November? I am SO not ready for December!
Pause button please!! I still haven't figured out what advent calender to make/do yet... so many cute choices & no more time.
I am however looking forward to creating 2 new scrapbooking projects this year. Nevermind that I have been attempting to Journal my Christmas for, oh, 3 years now and still don't have a completed album.
I am disregarding that tiny detail & adding in a December Daily project too.
I could choose the easy route & mix the 2 together and maybe actually finish one, but what fun would that be?
My plan is to fill in the gaps of my Journal which is an 8x8 Memory Keepers binder and to start an 8 1/2 x 11 December Daily album.
The journal is also going to be more about Christmas memories while the daily album will be all about this year.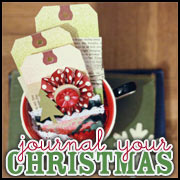 One of my favorite things about Shimelle's classes is that once you sign up you will continue to be a part of the class each year & have access to previous years materials. Plus they are just fabulously well put together.
Ali Edwards started December Daily a few years ago. I can't get her cute banner to work but here is a direct link on how to get started with this awesome project:
Ali Edwards December-Daily-compilation
She makes it as easy as can be to do this yourself.
Here is another post from one of my favorite digital scrapbook stores ~ Designer Digitals with some inspiration for your December Daily project.
Designer Digitals
This month they also have a daily digital scrapbook item every day on sale for 50 cents! Love that!
How are you going to document your Christmas?